How to Make Money from Streaming Service: A Detailed Guide for Business Owners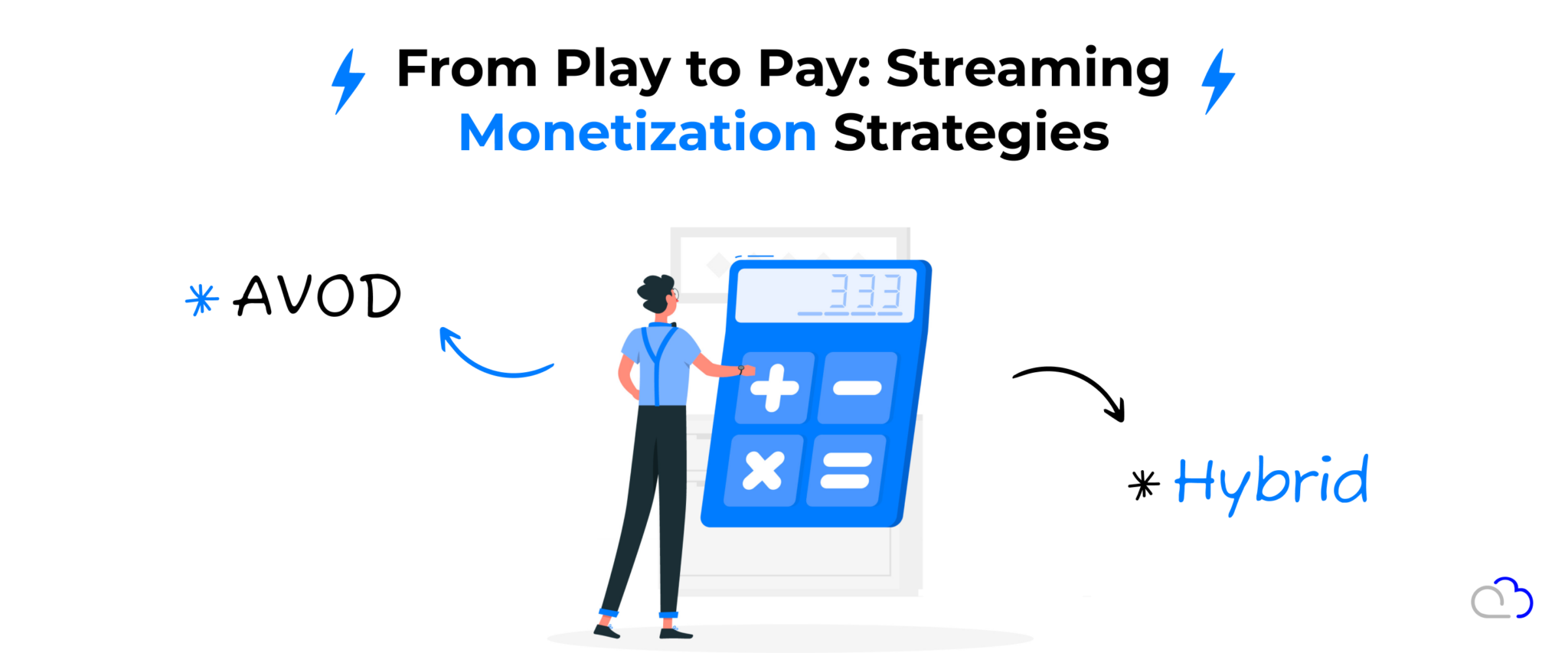 ---
Got a streaming service or planning to start one? The next big question is: How can you make money from it? This guide covers different ways to make money from streaming, with a focus on the technical side of things.
SVOD: Stated Payments for Full Access
What it Is: SVOD stands for Subscription Video on Demand. In this model, users pay a recurring monthly, quarterly or annual fee to access a library of content. They can watch as much content as they want during their subscription period.
Business Benefits: SVOD provides a stable and predictable stream of income for streaming businesses. Here's why it's advantageous:
Recurring Revenue: SVOD generates regular income, which is great for financial planning and sustainability.
Customer Loyalty: Subscribers tend to stick around, leading to a loyal user base.
Content Investment: Reliable revenue allows for good investment in high-quality content.
Data Insights: SVOD platforms can gather valuable user data for content recommendations and personalization.
Technical Side:
Reliable Payment Gateway and DRM: Implement robust Payment systems and DRM (Digital Rights Management) to protect your content and take control over the revenue stream. This ensures that only paying subscribers can access your content, preventing unauthorized sharing.
Adaptive Streaming: Utilize adaptive streaming technologies like HLS/MPEG-DASH. These technologies automatically adjust video quality based on the viewer's internet speed, ensuring a smooth and uninterrupted streaming experience for subscribers.
Interface: Intuitive and user-friendly interfaces with advanced features enhance user engagement and ensure seamless navigation through the content library.
Examples: Netflix, Disney+, HBO Max
AVOD: Free Access but with Ads
What it Is: AVOD stands for Advertising Video on Demand. It offers free access to content, but viewers encounter advertisements during videos.
Business Benefits: AVOD is attractive to businesses for several reasons:
Large User Base: It attracts a wide audience because it's free, making it appealing to advertisers.
Advertising Revenue: Revenue comes from advertisers paying to show ads to your viewers.
Targeted Advertising: Using Data Management Platforms (DMPs), you can deliver highly targeted ads, which can command higher rates.
Audience Insights: Ad-supported platforms can gather data about viewer preferences and behavior, valuable for ad optimization.
Technical Side:
Ad Insertion: Integrate with ad servers for seamless advertisement delivery during content playback, with SSAI (Server Side Ad Insertion) being a recommended choice.
Data Management Platforms (DMPs): Implement DMPs to collect and analyze user data, allowing for targeted ad delivery based on viewer preferences and behavior.
Advanced Analytics: Utilize advanced analytics tools to gain insights into your audience's viewing habits and ad performance. This data can help refine your ad strategy.
Examples:Tubi, Pluto TV
TVOD: Pay Per View or Rent
What it Is: TVOD stands for Transactional Video on Demand. Users pay for individual pieces of content, such as movies, shows, or sporting events. They either rent it for a limited time or purchase it for permanent access.
Business Benefits: TVOD offers distinct advantages for streaming businesses:
High Revenue per Transaction: TVOD models often charge premium prices for exclusive or new content.
Content Monetization: You can monetize individual titles, allowing for flexibility in pricing and packaging.
Reduced Subscriber Churn: It can complement other models and reduce subscriber churn when users want specific content not available through SVOD.
Technical Side:
Transaction Tracking: Develop a reliable system to track and manage user purchases for individual shows, movies, or series.
Stable Backend Infrastructure: Ensuring stable and scalable backend infrastructure is crucial to handle the potentially high volume of transactions, data management, and streaming delivery required for a seamless TVOD user experience.
Examples: iTunes, Google Play Movies & TV
Hybrid: Some Free, Some Paid
What it Is: Hybrid models combine multiple monetization methods within the same platform. Some content is available for free with ads, while other content requires a paid subscription.
Business Benefits: Hybrid models offer a balance of benefits:
Diverse Audience: Attract both free users and subscribers, appealing to a broader audience.
Multiple Revenue Streams: Generate income from ads and subscriptions simultaneously.
Content Accessibility: Offer options for users with varying preferences and budgets.
Technical Side:
Flexible System: Deploy a flexible platform capable of managing both subscription-based and ad-supported content seamlessly.
Machine Learning Algorithms and Advanced Analytics: Implement machine learning algorithms and analytics to make data-driven decisions on when to display ads and when to prompt users for a subscription. This optimization can maximize revenue for your hybrid model.
Examples: Hulu, Paramount +
FAST: Free Live TV with Ads
What it Is: FAST stands for Free Ad-Supported Streaming Television. It provides viewers with access to live TV channels and on-demand content, all supported by ads.
Business Benefits: FAST models are advantageous for streaming businesses due to:
Easy User Adoption: It's simple for viewers to start using, which can lead to rapid adoption.
Ad Revenue: Income is primarily generated from advertising, with potential for real-time bidding and dynamic ad placement.
Content Discovery: With a range of channels, users can discover new content easily, increasing ad impressions.
Technical Side:
Real-Time Ad Placement: Utilize ad servers with real-time capabilities to ensure effective ad placement during live TV broadcasts.
Media Server: A robust infrastructure that manages, transcodes, and streams video and audio content to multiple devices seamlessly.
Examples: Xumo, Plex Free TV, Roku Channel
The world of streaming is always changing with new tech and what viewers want. Earning well in this field is about more than just good content. It also involves making wise monetization choices and paying attention to the technical aspects. FastoCloud can help you start or upgrade your platform.
One of our top products is CrocOTT. It's a complete OTT/IPTV solution that lets your content stream easily on all major platforms and apps. Choosing the right way to make money that fits your content and audience is key. Our FastoCloud team would be delighted to dedicate our efforts and expertise towards the success of your platform.
Reach out to our team to discover how FastoCloud can boost your business operations.
---
Blog FastoCloud